DOWNLOADS ON THIS PAGE:
DOWNLOAD WER SOFTWARE Version4.0:

WHITE PAPER: DOCUMENT L

BFRC SUB LICENSE
___________________________________________________________________________________________________________________________
Smart's W.E.R. Calculation Software
Smart's W.E.R. Calculation Software can be used in conjunction with Smart W.E.R. Labels to easily produce Window Energy Ratings for Smart's products in line with the requirements of Document L.
NEW SOFTWARE AVAILABLE
The updated software includes the ability to print BFRC Simplified Energy Licences directly from the Software. Companies who have completed the registration with the BFRC are able to set up the registration details by clicking on 'Register' on the file menu.
Document L: Conservation of Fuel and Power
Recent changes in the Building Regulations are being driven by the need for the Government to comply with EU Energy Performance of Buildings Directive (EPBD).
Reducing energy consumption and eliminating wastage are among the main goals of the European Union (EU). EU support for improving energy efficiency will prove decisive for competitiveness, security of supply and for meeting the United Nations' commitments on climate change made under the Kyoto protocol. There is significant potential for reducing consumption. With 40% of our energy consumed in buildings, the EU has introduced legislation to ensure that they consume less energy.
The new Building Regulations can be downloaded from:
Planning Portal
www.planningportal.gov.uk/england/professionals/buildingregs/technicalguidance/bcconsfppartl/
THIS ADVICE IS AVAILABLE TO DOWNLOAD AS A PDF DOCUMENT USING THE LINK AT THE TOP OF THIS PAGE.
L1 Domestic Buildings
Domestic window U Values have been tightened for new build, refurbishment and replacement windows, with greater restrictions placed on the centre pane U Value compliance route.
Window Energy Ratings apply to all windows on existing dwellings and allow the effect of solar gain to offset heat lost though a window. Window Energy Ratings can be significantly improved using low iron glass and thermally enhanced spacer bars.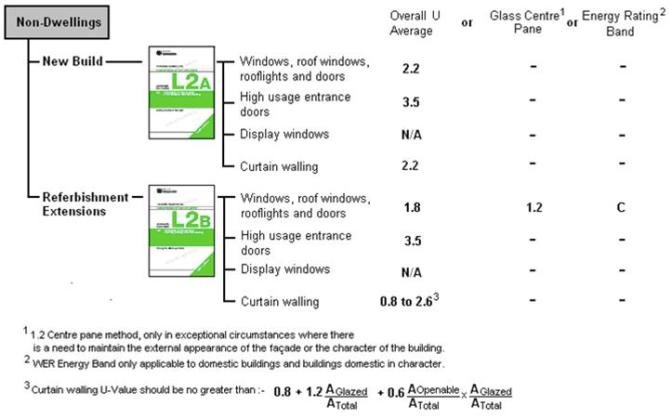 Key Changes 2010
L2A New commercial buildings
| | | |
| --- | --- | --- |
| Windows | 2.2 | No change |
| Doors | 2.2 | No change |
| Curtain wall | 2.2 | No change |
| Display windows | N/A | No change |
| Entrance doors | 3.5 | U Value on entrance doors improved from 6.0 |
L2B Refurbishment and extension to existing commercial buildings
| | | |
| --- | --- | --- |
| Windows | 1.8 | Refurbishment same as extensions |
| Doors | 1.8 | Refurbishment same as extensions |
| Curtain wall | 2.6 | U Value relaxed dependent on number of openers |
| Display windows | N/A | Same |
| Entrance doors | 3.5 | U Value on entrance doors improved from 6.0 |